Are you interested in discovering how care home administration software can benefit your care home?
In this blog, we talk to Stacey Linn, the managing director of Ideal Care Homes, to see how our care home administration software has revolutionised the functionality of the care sector.
care home administration | ideal care homes.
Ideal Care Homes operates a group of 32 different care homes throughout the North West and the Midlands. The group has employed our technology to improve its control over operational management processes.
Since adopting our technologies, Stacey, the managing director of Ideal Care Homes, has commented on the transformation of their care home administration processes.
She highlighted that the technology has led to tens of thousands of pounds worth of savings and delivers watertight, accessible record-keeping that allows staff to focus on other tasks.
Since using our Occupancy Dashboard, Admission Pipeline, and Average Fee Dashboard, Stacey has streamlined her management processes, enabling her to maintain a clear focus on the occupancy levels of her care homes since the pandemic.
Our technology also provides Stacey with the ability to track the staffing across her care homes, without having to be there in person. With our care home administration technology, Stacey can use our Staff on Shift widget to gain information about staffing levels at any one time.
Using this feature also allows Stacey and her team to keep an eye on their budgeted hours, providing them with information about the hours worked by staff and the time and money saved by making changes.
"Snap-to-Shift means that we're not paying staff for 15 minutes of unworked time at either end of their shift every day. Across 1,200 staff a year, it means that we're saving tens of thousands. The savings we make with Cool Care more than pay for its subscription, many times over."

Stacey Linn – Managing Director, Ideal Care Homes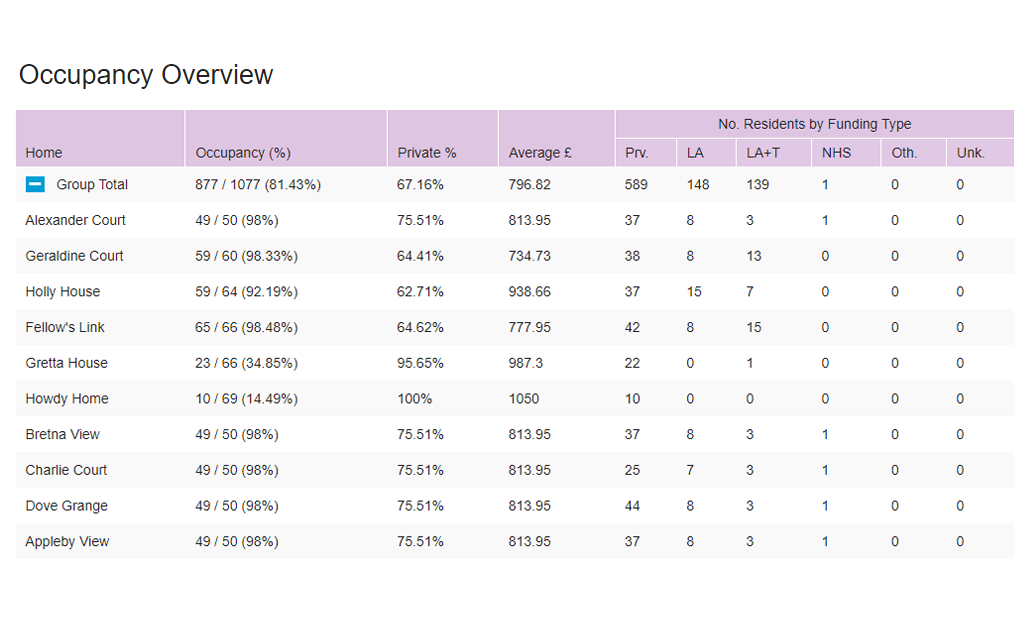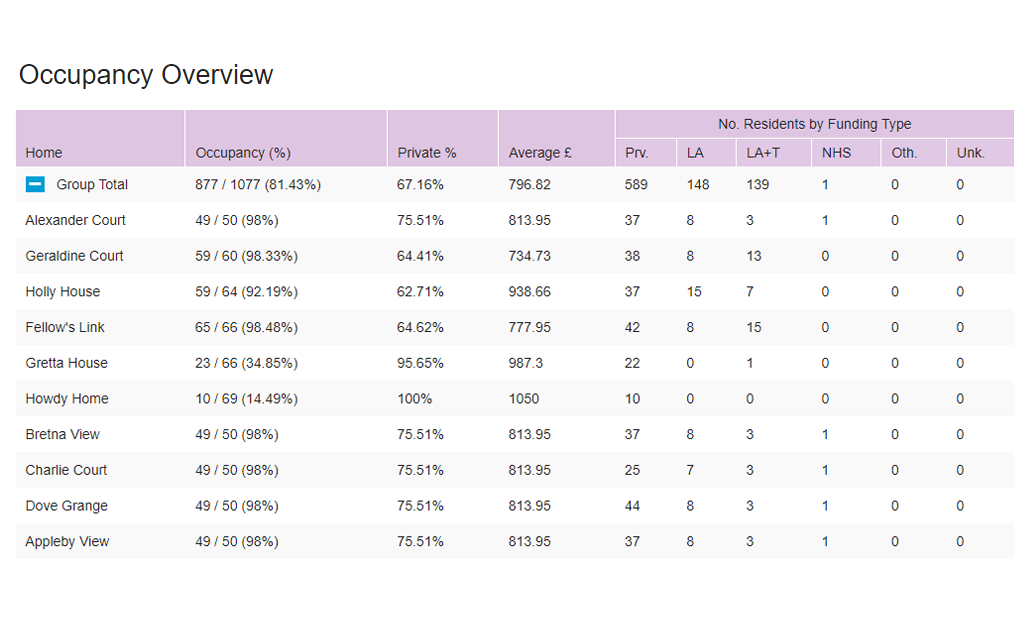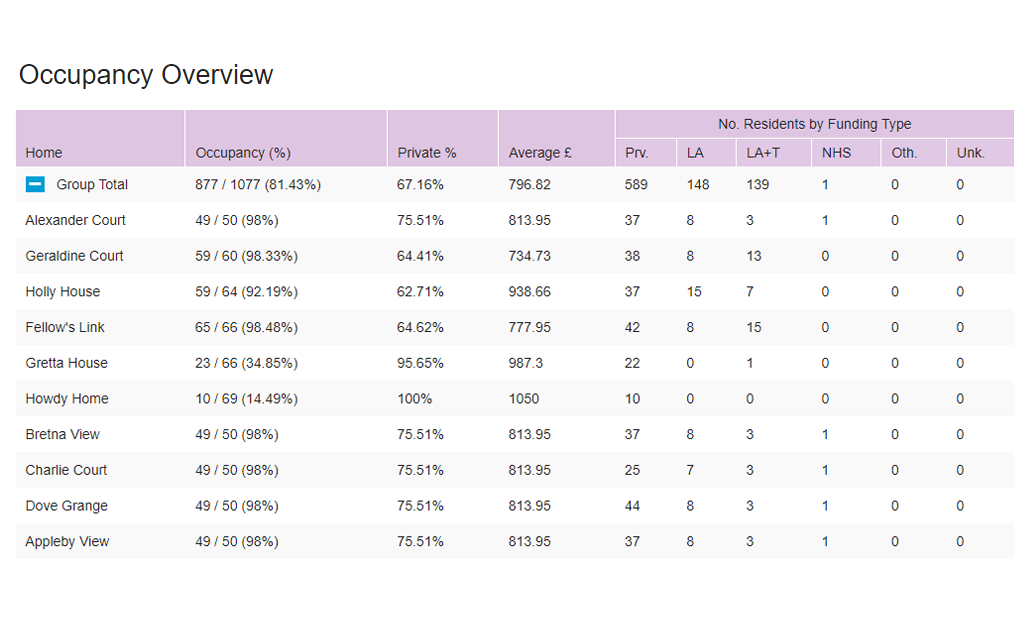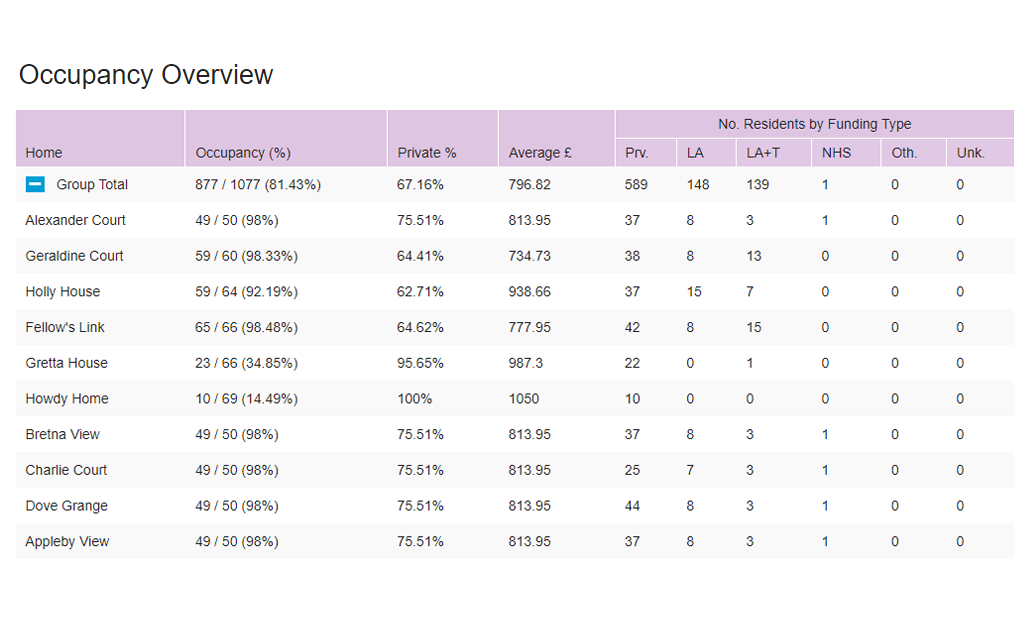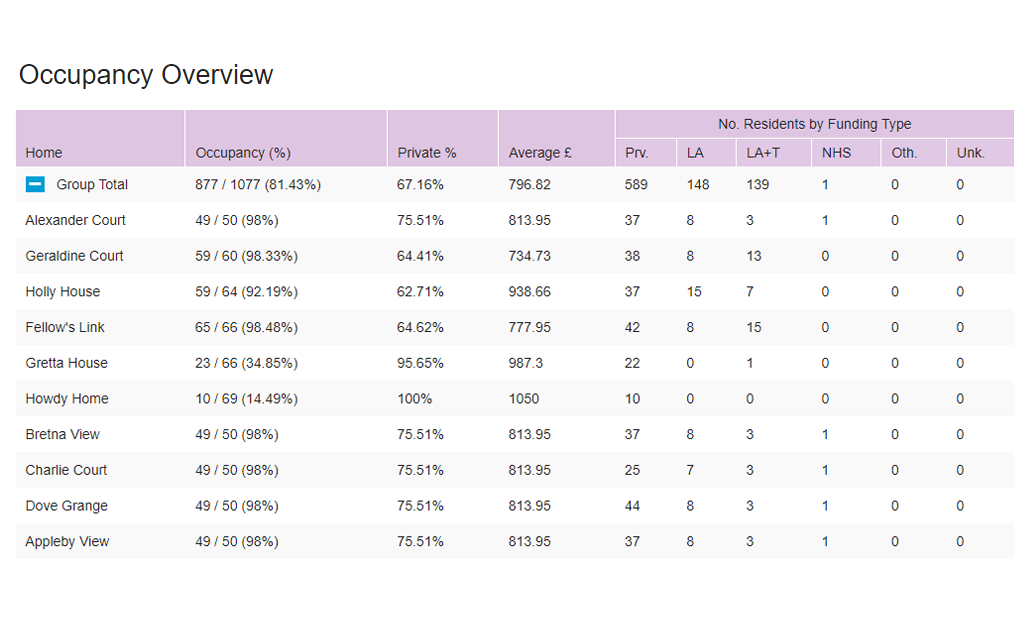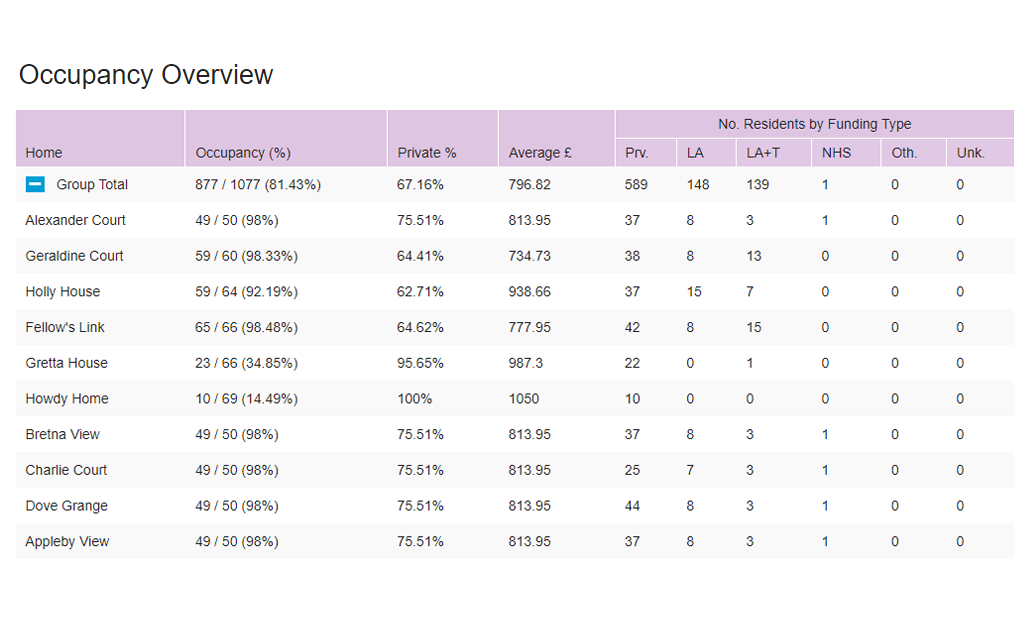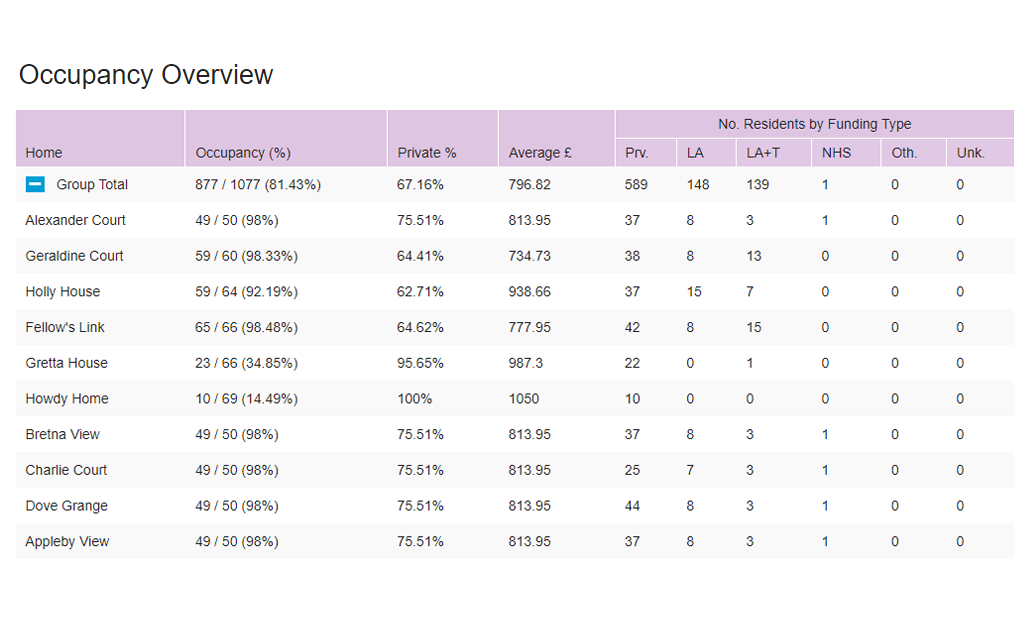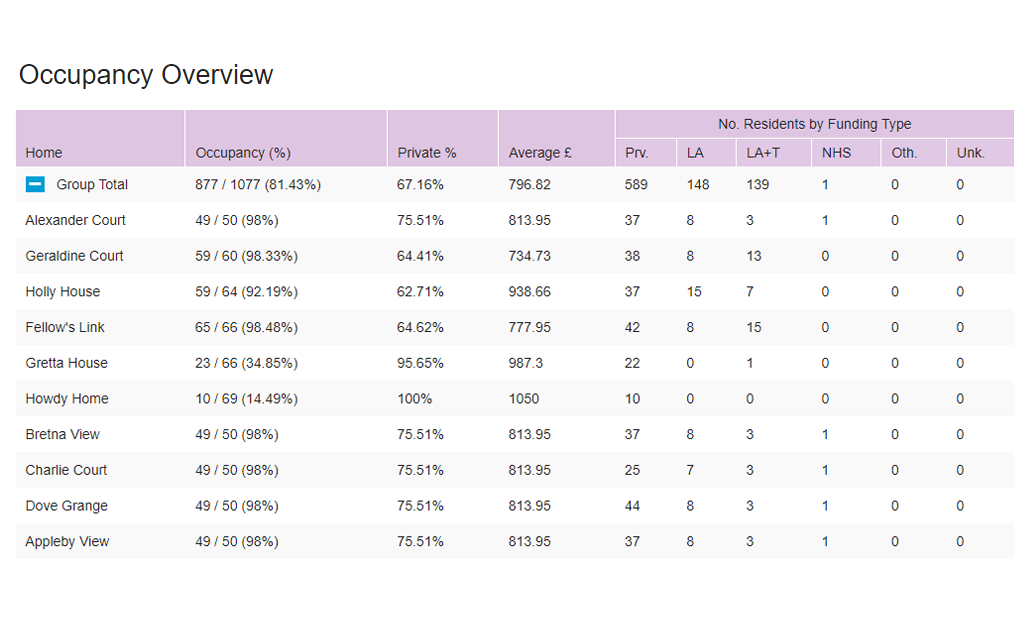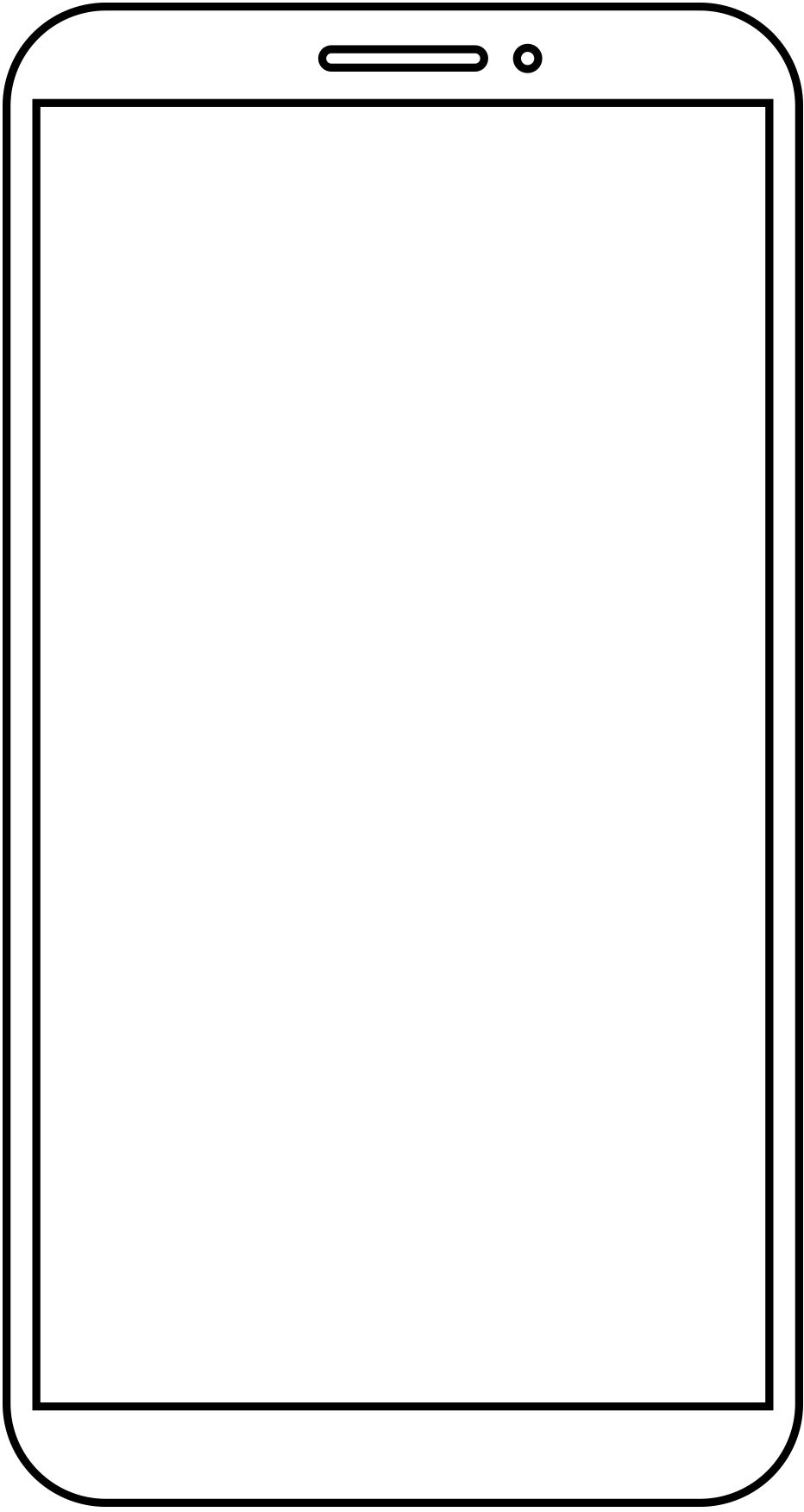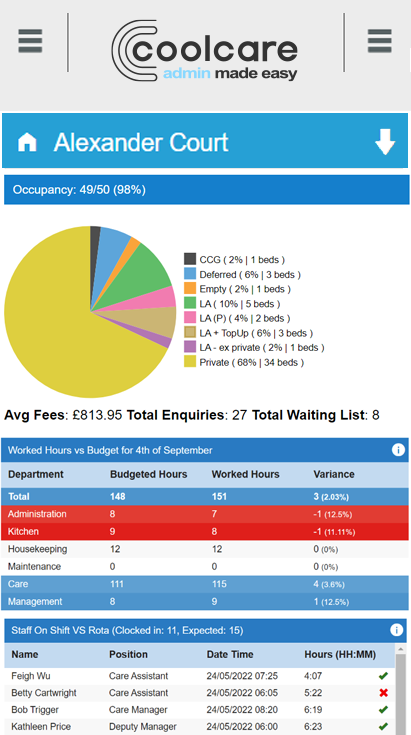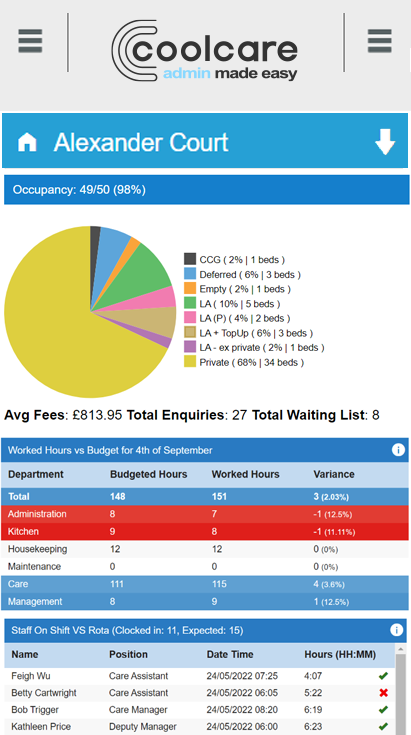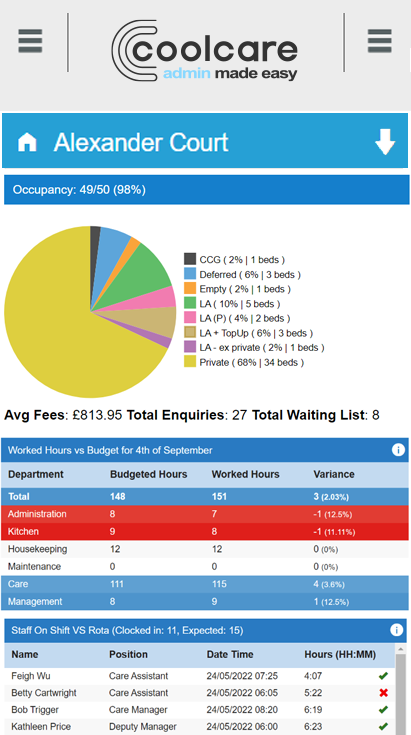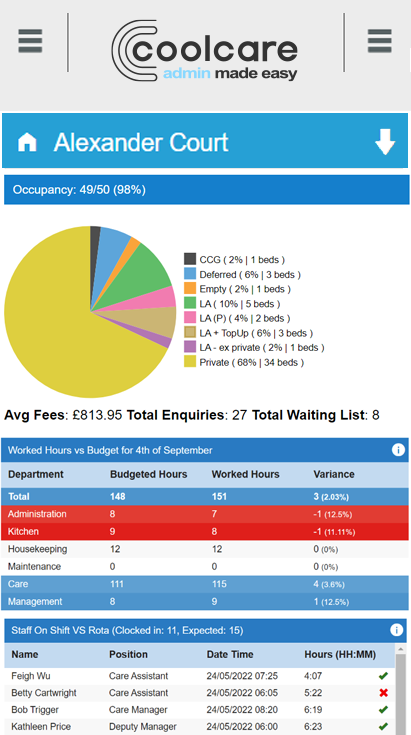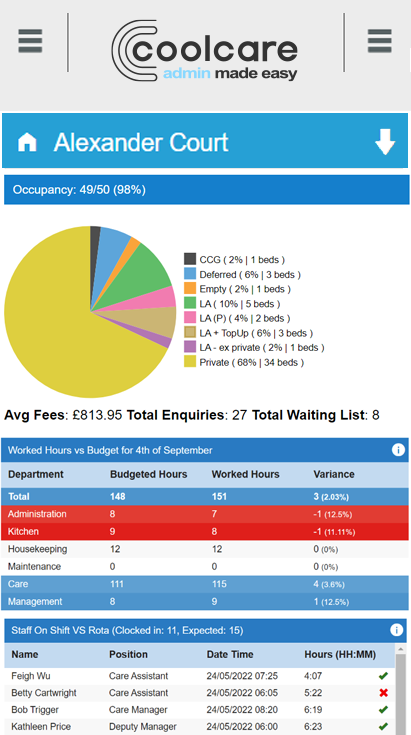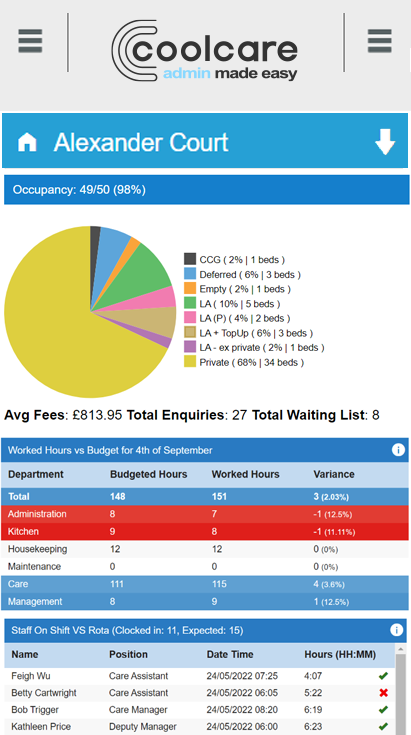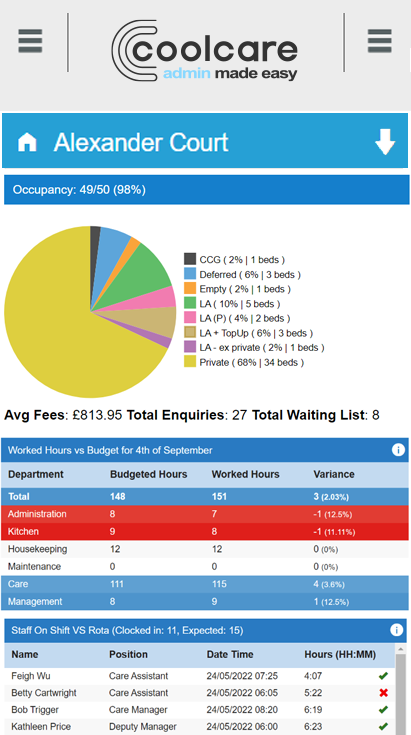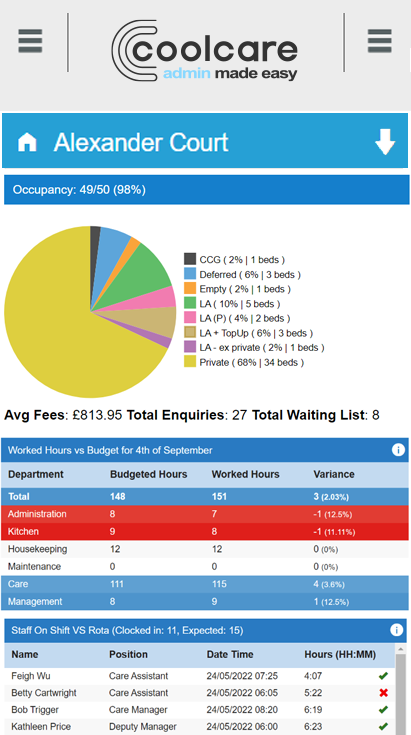 driving conversions using care home administration software.
As well as aiding with staffing and care home management, our software also aids with driving conversions within care homes.
Using our pipeline functionality, Stacey has been able to measure enquiry levels within her care home, whilst developing an understanding of converting leads into residents and maintaining a constant analysis.
With our care home administration software, Stacey can use the data generated to dig deeper and understand why the number of queries isn't where it should be. This enables her to put measures in place to increase them in the future.
care home administration software | the benefits to staff.
So far, Stacey has seen positive changes in enquiry pipeline accountability across her team, and credits her usage of our occupancy management technology.
With this technology, the task dashboard is monitored by the front-of-house manager who can see outstanding tasks and when they need completing. Stacey is then able to check the dashboard to ensure everything is on track.
When looking at the colour-coded tasks on the dashboard, Stacey can tackle the more difficult or pressing tasks, understanding what has priority, when it needs completing, and who handles the task. This has since proven game-changing in keeping the pipeline up-to-date and ensuring staff can deal with enquiries.
care compliance.
Stacey sets high standards when it comes to care compliance, ensuring that the training she offers is benchmarked at 93%. To achieve this, her care homes download their training reports from us straight away, offering feedback to the team and increasing performance.
As well as using the training matrices in-house for data management, these are sharable with CQC inspectors, which are much easier to read than the previously-used Excel sheets.
When speaking to Stacey about our care home administration software, she pointed out the difference that our virtual notice boards make to families and visitors, by displaying the on-duty staff each day. This adds an extra layer of communication within the care home.
Our technology provides visibility and oversight while setting a benchmark for expectations within the Ideal Care Homes Group. We're looking forward to seeing the continued progress in their staffing budgets, attendance, and fees using our technology.
For more information on the Ideal Care Homes Group, please take a look at their website.
Alternatively, why not take a look at our previous blog to discover more about using our digital operations to manage your care home online?