Care homes are being offered free care home management software to help their head office staff access resident and staff records remotely by CoolCare. The offer comes in reaction to the Government's requirement to work remotely during the COVID-19 pandemic.
As care home operators make urgent plans to maintain business continuity, this free offer will provide an easy way to assist the running of core business processes as remotely as possible. The software will be provided for free for at least three months, whilst Government recommendations of self-isolation remain in place.
CoolCare4 software is cloud based and so can be switched on remotely with the operator's data uploaded from a spreadsheet. As CoolCare4 is accessible through a website, it means providers whose head office staff do not have work laptops can access data through their work phones or personal devices, if necessary. During this time of lock-down, it will reduce the number of staff who need to be office-based as well as reducing the need to access intranets and paper records. It will also enable senior managers to continue to keep up to date with their care homes' performance.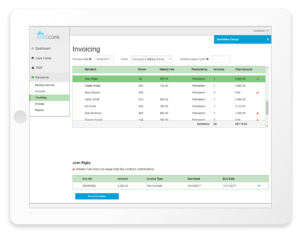 The free offer from CoolCare is a basic version of the CoolCare4 system. It includes essential elements of its system and support services, which will enable an operator to continue core business functions. Features include enquiry/occupancy management, resident invoicing and staff records to monitor training, appraisal and relevant pre-start checks. The more advanced features of the software such as T&A and rostering, for example, are excluded.
CoolCare Managing Director, Fiona Hale, said:
"We know remote working can be tough for care home groups – even for those that have intranets/VPN connections, as a sudden increase in demand may slow connections significantly. There are so many operators that don't have a system other than those available on premise. The pandemic, and toll it will take on availability of staff, has caught many businesses, across all sectors, unprepared.

We can see how much just having the basic version of our software will help with business continuity. We'll offer this free access to as many operators as we feasibly can to help them in this difficult time and try to retain business continuity.

Once things settle down, there will be no obligation to keep the system – it's come at a cost to us but we're happy to do it for this sector we know struggles at the best of times.

Given the likely demand, we are offering our basic service with essential remote online and email support. It's not going to be the usual CoolCare service for those on the free service – as we have to manage demand and make sure we can provide for our full-service customers – but it's something we can do to help isn't it? If by giving a few providers a solution to enable to work remotely, CoolCare can help keep residents and staff safe, keeping the business afloat, it's just something we have to give back to the sector."
The offer is available for care homes who do not currently have software provision which enables remote working. If you want to take up the free care home management software for your organisation, please complete the form here: coolcare4.co.uk/free or email info@coolcare4.co.uk for further information.
CoolCare will install on a first-come-first-served basis as quickly as possible.